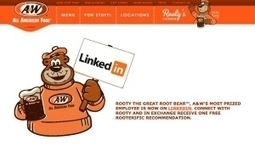 Here's how A&W Restaurants is making its nearly century-old brand relevant to young customers with funny, faked-up social media campaigns.
craig daniels's insight:
It's not original but humor tilted off to one side can be hugely effective in getting your small business noticed on the Internet.
It's time to shed your business image of being competent yet dull and boring. It's time to take some risks in your marketing and customer engagement. Let's Go!
See on www.forbes.com